Leading Supplier Indonesia
Indo Agrio registered under the legal name of PT Agro Bumi Universal operates a wide range of commodities interests. Wholesale supplier, producer, and exporter of agricultural and marine products from Indonesia. We ship our product all over the world.
Based in Bali Indonesia, our operations and productions are supported by a vast network of relationships between farmers, collectors, government, and freight forwarding partners. We partner with farmers and growers who cultivate the finest cloves, vanilla beans, arabica and robusta coffee beans. First hand from the farm with extensive quality control to meet the highest standard and ship to your destination.
We have expanded into commodities sourcing and supplying nutmeg, mace, along with other Indonesian spices. As well as coconut products including semi husked coconut, desiccated coconut and virgin coconut oil. As a trusted supplier, we source only the highest standard to elevate your business.
Recent development in seaweed farming Indo Agrio and Macro Seaweed collaborates with seaweed farmers in Bali especially in north of Bali to begin an investment to produce high-quality Eucheuma Cottonii or Kappaphycus Alvarezii as well as Ulva Lactuca also known as Sea Lettuce. From cultivation, harvesting, drying, and shipping we manage to be the first development in seaweed farming of north Bali.
Our product selection in agricultural and marine sector from Bali.
Current crop from this season :
We have explored the vast riches of the region to bring you the finest goods. Our expertise and commitment have earned us a reputation as a trusted commodities sourcing agent, and we are dedicated to fulfilling our customers' demands. Let us bring the wealth of Indonesian agriculture to you!
The coconut division has successfully shipped 55 metric tons of semi-husked coconuts to Thailand in a 40-foot refrigerated container, with a monthly commitment of 20 containers to meet demand. In parallel, the seaweed division dispatched 150 metric tons of dried Eucheuma Cottonii seaweed in six 40-foot containers. This monthly operation, spanning three months, opens doors for future expansion and strengthens connections with carrageenan factories in China.
Strive our best to commit and integrate all process of our product to have highest quality standard. Together with our logistics partners and close cooperation with the government, we can assist our customer importing requirement or custom clearance and relevant documents. We export our product to various country with great appreciation from the customers.
Frequently Asked Questions
Where do you ship your product?
We do ship our product internationally. Indo Agrio with rigorous selection of product quality partnered with multiple community farmer to secure supplies. A close relationship with international logistic and freight forwarding agent for competitive shipping price. Cooperated with government to secure legal, permit, and required documents in order to export our product.
Can you quotes CIF CNF prices?
Yes, we can give you quotation in CIF CNF prices. We do handle freight to your destination port. But for faster responses we offer FOB prices at closest port to commodity sources. There are list of port that we frequently ship our goods.
Tanjung Perak, Surabaya, Indonesia
Tanjung Priok, Jakarta, Indonesia.
We will coordinate with freight forwarding agent within 24 hours and provide you with best CIF / CNF prices.
What is your payment terms?
Bank Transfer / Telegraphic Transfer
Letter of Credit, at sight irrevocable
30% advance payment
all balance must be paid before delivery
What is the MOQ?
Minimum order quantity is different each product but mostly 1 metric ton is the minimum. Vanilla beans, coffee beans, and many other can be ordered less than 1 metric ton.
Do you have pictures of your product?
Yes, either in gallery page or product page. But often pictures is not enough. We encourage our customer to see product directly with free sample from us. Sensory analysis such as appearance, texture, flavour, aroma are better decided by customer but we offer 3rd party inspection, testing, and analysis such as Sucofindo for reference.
Do you have organic certification?
Indo Agrio has unparalleled selection of product and extensive range of choices. We supplies organic and non-organic required vary from country to country depending our customer demand. Please refer to product page for organic certification.
Can I request product sample?
Yes, product sample is free. But shipping cost is charged to customer. We use DHL Express door to door service. If you would like paid by your DHL corporate account, we are happy to help.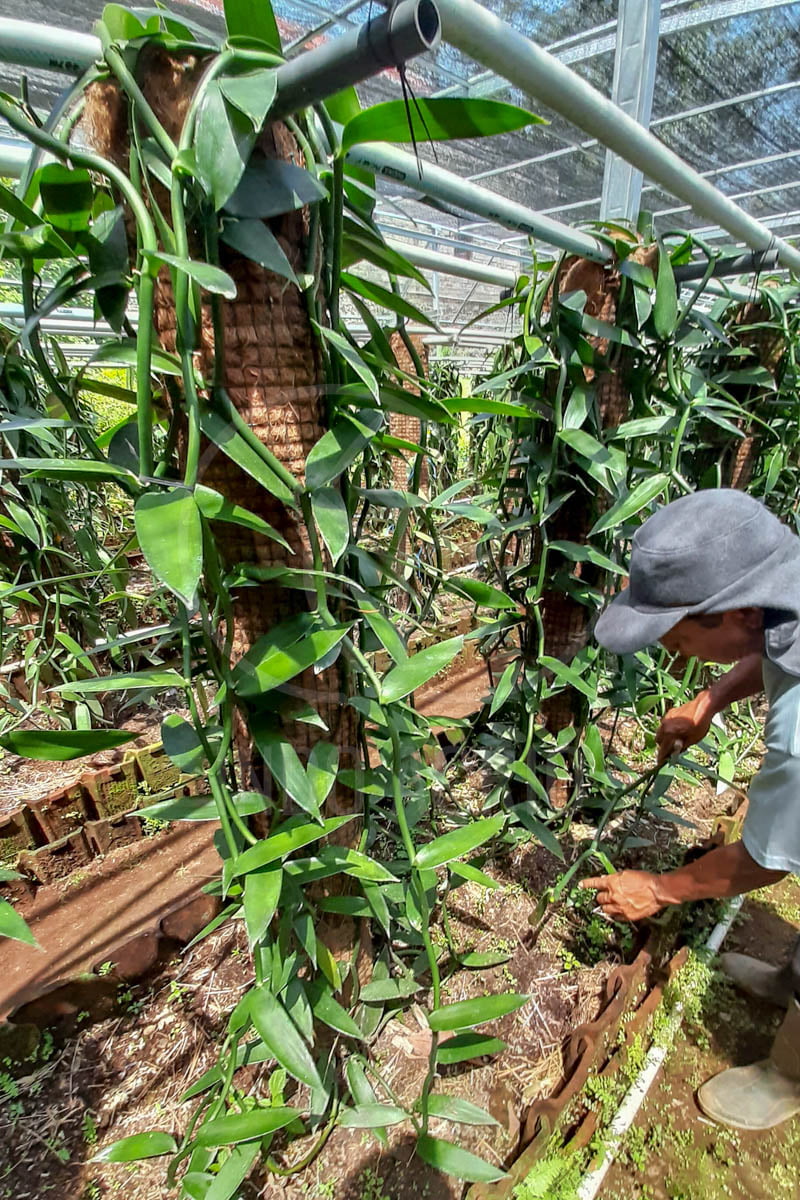 Empowering farmers and uplift local communities into agriculture farming and ocean farming. Our primary focus revolves around Bali's most prominent agricultural and marine ventures, including the cultivation of vanilla and coffee across the island, the growth of cloves in northern Bali, and seaweed farming originating from Nusa Lembongan. However, our ultimate goal is to enhance the prosperity of our local region in northern Bali.
We invite you to be a part of a journey into Bali agriculture and marine investment opportunities. Become a story that celebrates the island of Gods and ocean's grace, uplifts communities, and echoes the symphony of sustainability.
The tides of change are calling—will you answer?